What's is like to volunteer for PAWSitively CATS? Picture walking into a house and having a couple dozen cats eagerly greeting you, ready to snuggle with you and purr in gratitude for your help. Cleaning the cat houses is not easy work, but the cats make sure you take breaks to give them plenty of affection.
These photos show how much the cats LOVE volunteers! Chloe, Debra, and Jordan recently joined our volunteer team and you can too! Click HERE to learn more.
Our new volunteer Elly is getting to know the cats in our Feline Leukemia house. She took this photo of Grayson, a big beautiful Maine Coon kitty who shares the house with about 35 other felines. Elly has been doing a terrific job cleaning the Leukemia house and giving the cats lots of love!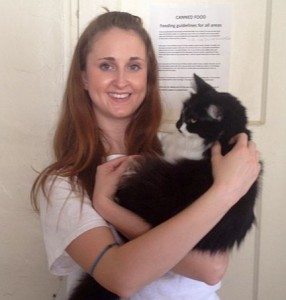 Here's what volunteer Amanda has to say:
I started volunteering for Pawsitively Cats in summer 2011. I began volunteering as something to fill my time that summer since I was out of school and could not do ballet because of an injury. Soon it turned into something more than just a time filler and became something I really enjoyed doing.
I've grown up having cats, so this was the perfect volunteering work for me. All the cats at Pawsitively Cats are incredibly sweet, and I fell in love with them. If I could, I would have adopted twenty of them by now. While cleaning litter boxes and mopping floors may not be the most glamorous work, I enjoy doing it for the little "breaks" I take to pet and play with the cats.
Because I am a student at The University of Arizona, I only volunteer on Fridays, but it is something I look forward to every week. After a long week of classes and tests, it is relaxing to hang out with the cats for a few hours. It's exciting when you can tell that the cats remember you and they light up when they see you, especially the shyer ones. I've even had some of the feral cats let me pet them and its always nice to see them learn to trust you. That's why I volunteer at Pawsitively Cats because I see how happy it makes a cat to have his head or tummy petted for a few minutes. In many ways, cats show a volunteer they appreciate the work she does.
I enjoy volunteering at Pawsitively Cats because it is my own way of giving back to the community in a way I truly enjoy. I love how a cat that used to be scared of me now perks up when she sees me and meows at me, asking me to pet her. I will never forget when Maxie, one of the leukemia cats, saw me walk in the door and jumped from about two feet away onto my chest. I have very little free time during the school year, but volunteering is definitely worth taking the time.
Volunteers are welcome to submit photos and stories to Susan M. for inclusion on this page!