Business Sponsors
Be a Business Sponsor at one of six levels: Silver Paw, Gold Paw, Platinum Paw, Emerald Paw, Ruby Paw, Diamond Paw. Sponsoring helps to pay for food, litter, shelter, and veterinary care. Animals needing sponsors are shown below. Your bank can send annual or monthly checks to: PAWSitively Cats, 1145 N. Woodland Ave, Tucson AZ 85712, or Paypal sponsorships can be set up using the buttons at the bottom of this page. If you sponsor a specific animal, you'll receive a Certificate of Sponsorship with your name and your sponsored animal's photograph, and we'll send periodic updates on your sponsored animal. Business sponsors can have their logo displayed on the PAWSitively Cats website. Sponsorship donations are tax deductible to the fullest extent of the law. You may visit your sponsored animal on Saturdays from noon - 3pm or by appointment.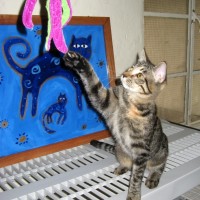 Romey
Romey is a spirited kitten. She and her mother, Raina, both tested positive for Feline Leukemia.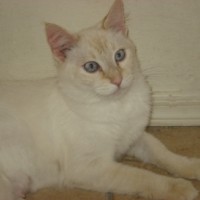 Raina
Raina is a beautiful long haired flame point Siamese mix who has tested positive for Feline Leukemia. This lovely gal is looking for her special sponsor!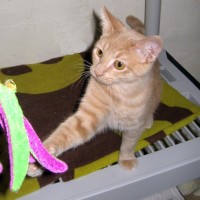 Brut
Brut was named for his champagne color. He is a very cuddly kitten and has tested positive for Feline Leukemia. This sweet boy loves to play and would love a sponsor!
Tippy
Tippy is a bit of a shy kitten, especially compared to her brother, Brut. She is a sweet girl who tested positive for Feline Leukemia and would really benefit from having a sponsor who would visit her and help her come out of her shell.
Genevieve
Genevieve is super cuddly and would love to demonstrate that to you! You can fall in love with this beauty.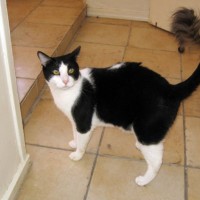 Geoffrey
Young Geoffrey gets his tuxedo markings from his mother, Genevieve. Both are sweet friendly kitties who tested positive for Feline Leukemia and are waiting for a special sponsor.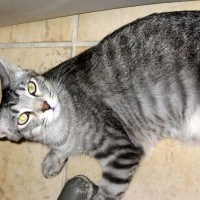 Benji
Benji is beautiful but quite shy. He pretends not to like attention unless you are bringing him treats. A sponsor could help Benji warm up to humans even more.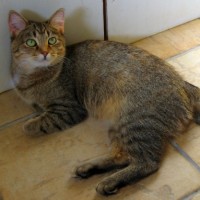 Candi
Candi is a very sweet tempered Manx kitty who has tested positive for Feline leukemia. She is gentle and has an adorable face!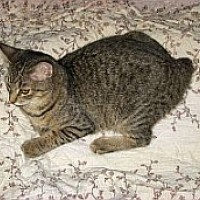 Catzie
Catzie is the daughter of Candie, but she has grown much larger than her mama. They live together in our feline leukemia house.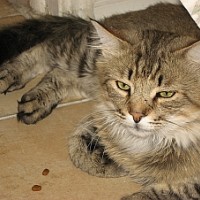 Dino
Dino tested positive for Feline leukemia, but would much prefer a home where he could be the only cat. He's a large, beautiful Maine coon and has been very healthy during his time with us.
Elvin
Elvin is very shy and has a floppy ear. He would benefit from a sponsor who would be very patient with him as he continues to learn to trust people.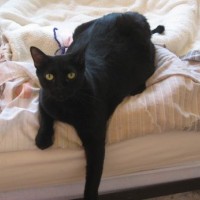 Rosa
Rosa is a big beautiful girl who lives in our feline leukemia house. Rosa has a devoted sponsor, but she would like another as she loves people!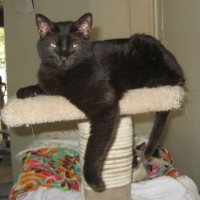 Roxie
Roxie is extremely friendly and gentle. She lives in our feline leukemia house and is always ready to be loved!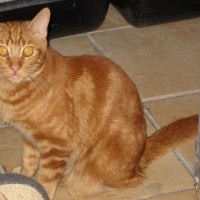 Scout
Scout is a deep orange tabby with gorgeous golden eyes. He is healthy but very shy, and unlikely to be adopted. With regular visits from a sponsor, he may become more relaxed.
Sonora
Sonora is a small orange and white tabby who lives in our feline leukemia house. She is extremely friendly and playful. You can almost hear her chirp "Sponsor me!"
Harriet
Harriet was paralyzed after a dog bite. Even so, she was a devoted mother to her many kittens. She lives in our Flanwill house and is a favorite with sponsors and volunteers.
Jackie
Jackie is Scout's sister, and shares his amazing golden eyes and his timidity. She is a polydactyl cat, and might be able to become friendlier if she had a sponsor who could visit her frequently and be very patient with her.
Jake
Jake is a sweet boy who lives in our feline leukemia house. He is very well behaved and gets along nicely with the other cats. He would love to have a sponsor too!
Matthew
Matthew is a friendly boy who loves to eat! He lives in our feline leukemia house with his nearly identical twin, Max. These boys have a sponsor but wouldn't mind having more.
Max
Max looks just like his brother Matthew except for a small spot on his right arm. Both are feline leukemia positive, but are quite robust. Max likes to play and has one sponsor, but thinks that another would be just dandy!
Mira
Mira is a gorgeous Russian Blue kitty who tested positive for feline leukemia. She has a sponsor but loves visitors, so is hoping to find another!
Orville
Orville is a big buff tabby who pals around the feline leukemia house with Matthew and Max. Orville also has a sponsor but welcomes others to sponsor and visit him!
Trey
Trey is a big cat with two different colored eyes. He had been adopted but was returned because he didn't always use a litter box. Trey needs a sponsor to reassure him that he is lovable!
PeiWei
PeiWei is an adorable kitten who tested positive for Feline Leukemia. She loves to eat and she's becoming cuddlier all the time. This cute girl is fun to play with!
Yetta
Yetta has lovely golden eyes. She is a friendly girl who tested positive for feline leukemia and would show plenty of affection to a sponsor.
Yoko
Yoko is a dark colored tabby cat who lives in our feline leukemia house. He is gentle and sweet and is waiting for a loving sponsor.
Cassidy
Cassidy is very shy and has one leg that she can't use. She likes salmon ProPlan treats. With a loving sponsor to visit her, Cassidy will probably warm up to people eventually. Will you show this sweet girl some love?
Philip
10 year old Manx kitty who tested positive for FIV and needs special food to prevent urinary crystals. Philip had one eye removed due to cancer and would love a quiet home to live out his remaining years.
Henry and River
River is a very shy black cat, seen here relaxing with his pal Henry. River is looking for a caring sponsor.
Tahara
Tahara is a feral cat who may learn to trust humans eventually. She needs a kind sponsor.
Sonny
Sonny is lovable and has tested positive for Feline Immunodeficiency Virus (FIV.) He is looking for a special adopter or a sponsor.
Luke
Luke is missing part of his tail, but that doesn't stop him from being a friendly kitty and welcoming visitors to the shelter. Can you find a special place in your heart for this boy?
| | |
| --- | --- |
| Silver Paw: | Emerald Paw: |
| Gold Paw: | Ruby Paw: |
| Platinum Paw: | Diamond Paw: |