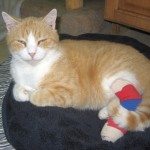 PAWSitively CATS has a new Building Fund —and your participation is needed! To better care for current feline residents and cats to be rescued in the future, PAWSitively Cats needs to expand into two new buildings. We are continuing to pursue grant funding from the Petco® foundation to cover some of the cost of this new venture. To supplement the grant and make their dream a reality, PAWSitively CATS needs the support of donors and the Tucson community. Success of this endeavor will yield a more suitable living space, with secure enclosed outdoor porches to provide more stimuli for the cats. Savings from reduced expenses for rent and utilities will be put toward direct care of the cats in residence.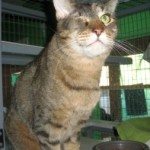 Additional space is required for cats like Phillip, who after living his entire 10 year life with his caretaker, was brought to a Phoenix shelter when his caretaker passed away. Because Phillip tested positive for Feline Immunodeficiency Virus, he was in danger of being euthanized, as the Phoenix shelter does not house FIV+ cats. PAWSitively Cats had partnered with this shelter in the past and agreed to take Phillip in. After arriving at PAWSitively CATS, Phillip needed an eye removal due to melanoma as well as dental work. Sweet Phillip, who loves to be held, is now healthy and safe at PAWSitively CATS until adopted into his forever home.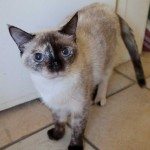 Each resident at PAWSitively CATS has its own unique personality, and those personalities often change. Shasta, a beautiful Siamese mix, tested positive for Feline Leukemia and had a nasty temperament until she received dental treatment. Now that Shasta feels better, she loves attention and rolls over in gratitude when volunteers pet her. Joey, a feral cat rescued from a trailer park, remained unfriendly until he broke his leg and PAWSitively CATS took him to get veterinary care. After having his leg in a cast for a few weeks, Joey decided to trust people and is now a cuddly and adoptable boy. Harriet's back legs are non-functional since she was attacked by a dog shortly after giving birth to a litter of kittens. Despite this grave injury, she lovingly nursed her kittens until they were old enough to be adopted. Harriet remains at the shelter and scoots herself around as if there is nothing unusual about a cat with only two good legs.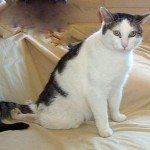 Will you help us save more cats like Philip, Joey, Shasta, and Harriet? Please send your generous gift to: PAWSitively CATS, PO Box 32115, Tucson, AZ, 85751 or donate online at PAWSitivelyCATS.org, noting whether your gift is for the Building Fund or the general fund.