Happy Endings for cats include adoptions (especially adoptions of special needs cats) and events in the community that help stray or feral cats.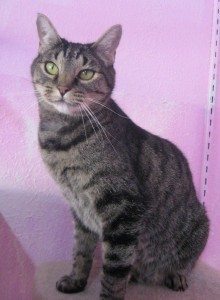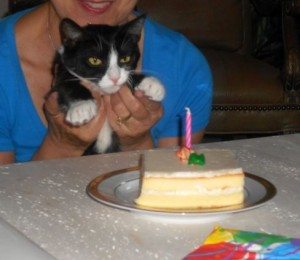 It was a sad day about a year ago when our cat Tallie had to be put to sleep due to failing health.  Tallie had been abandoned in a carport and had neurological problems, but lived her last years happily in the shelter. The same day, a stray mother cat and kittens were found.  We named the mother cat "Talia" in honor of dear Tallie. One of Talia's kittens had severe birth defects and died after a few days.  The other kittens were given the names "Amanda" and "Amy" and each found a wonderful home. Amanda's adoptive family changed their new kitten's name to "Tallie" in honor of the mother "Talia" and they just recently learned that Talia had been named after another "Tallie."  Here is the lucky and playful girl Tallie celebrating her 1st birthday!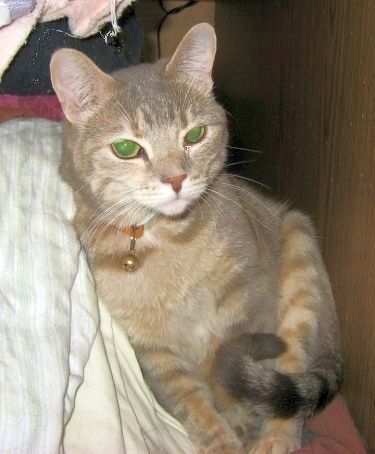 Hannah (now named Chloe) is very happy now that she has been adopted into a loving home. Hannah was adopted a few years ago, and was very much loved by a U.S. Navy veteran and his wife. Last year, the veteran was diagnosed with cancer, and Hannah came back to PAWSitively Cats. She stayed to herself much of the time, curled up in a pink cat bed. Hannah's luck changed last month: she was adopted by a nice couple and taken to the vet for a check up. For the first few days in her new home, she hid and made it clear that she was not happy about the vet visit. Soon she realized that she was in a wonderful place, hopped up on the couch and started purring! Chloe (formerly Hannah) gives her love to the whole family, including the grandchildren. We're delighted that she has found her forever home!
You can meet our wonderful adoptable cats on Saturday afternoons at 3432 E. Ft. Lowell, or other times by appointment.  Call us at 520-289-2747.
Click HERE to read the story of a blind cat who was recently reunited with his family in Columbus, Ohio.
Click HERE to read about our presentation at Lauffer Middle School.
We recently got a call from Andy, who lives near a car lot and was concerned about strays in the area after hearing that workers at the lot planned to trap and kill the cats. Andy got information about TNR (Trap, Neuter, Return) and spoke to the owner of the car lot. The owner agreed to let Andy trap the cats and repair the fence to keep the cats out of the lot. Andy has borrowed humane traps and is in the process of saving these cats.