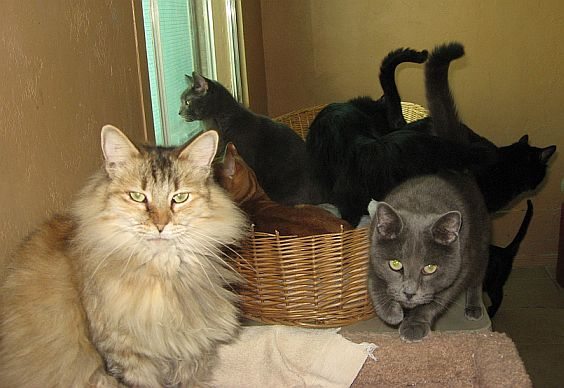 PAWSitively Cats has lots of cats, and there are many ways you can help. Does your "cat-titude" match one of these categories?
"I Hate to Clean" Cat: If cleaning litterboxes isn't your thing, consider dropping off laundry detergent, bleach, or dishwashing liquid. You can also take a few loads of linens and wash them offsite for us!
"Fat Cat": Bring canned food (pate' style is preferred) for the kitties to enjoy.
"Tidy Cat": Our kitties need lots of scoopable litter!
"I Love Landscaping" Cat: If you like to make the grounds look nice, help our kitties out with some yard work. They like it when the shelter looks good!
"Creature of Comfort" Cat: If you can help with water or electricity bills, the cats will purr up a storm!
"Healthy, Wealthy, and Wise" Cat: OK, we'll settle for just Healthy! Our kitties need donations to cover vet bills at Strickland Clinic or Feline Limited.
"Curious Cat": If you're wondering about other ways to help, consider joining our fundraising team. Click the "Contact Us" link on our Home Page...we look forward to hearing from you!