Descriptions of many of our adoptable animals can be seen on the PetFinder site by clicking HERE. You can also meet adoptable and special needs animals on Saturday afternoons from noon – 4pm at 3432 E. Ft. Lowell Rd, or most Saturdays 11am-3pm at PetCo at 9640 E. 22nd St (at Harrison).  For other times, call 520-289-2747 to make an appointment.
Serena
Serena is an unusual dilute calico kitty with a sweet personality. She would love to find a loving forever home!
Chastity
Chastity is a young and spunky calico girl. She would prefer to be the only kitty in a home.
Joey Bishop
Joey came to us as a frightened feral cat, but little by little started to trust people. He broke his foot, and after a visit to the vet, he surprisingly started letting people hold him and now he's very cuddly! Joey snuggles and purrs as if he is showing gratitude for the care he's received. An amazing turnabout and we're all so happy for Joey!
Gabrielle
Gabrielle is a sweet medium haired grey tabby. Meet this beautiful girl at 3432 E. Ft. Lowell on Saturday afternoons or by appointment.
Devon
Devon is a laid back orange tabby. You can meet him at our adoption center, 3432 E. Ft Lowell on Saturday afternoons or by appointment.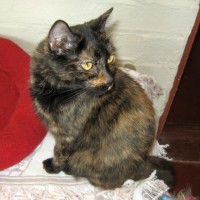 Nadia
Nadia is a petite tortoise shell kitty. Meet Mia ot our adoption center on Saturday afternoons!
Luke
Luke is missing part of his tail, but none of his charm. Meet Mr. Luke at 3432 E. Ft. Lowell on Saturday afternoons or by appointment.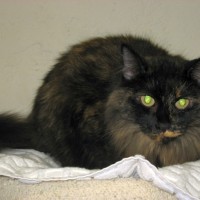 Mia
Mia is a beautiful and sweet long haired tortoise shell kitty. Meet her at 3432 E. Ft. Lowell on Saturday afternoons or by appointment.
George
Gorgeous George is a young and playful grey tuxedo kitty. Meet him at our adoption center!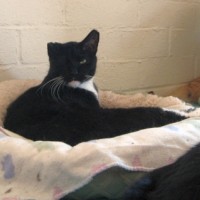 PJ
PJ is PURRfect...other than his right ear, where he had a hematoma repaired. Meet this good boy at 3432 E. Ft. Lowell on Saturday afternoons!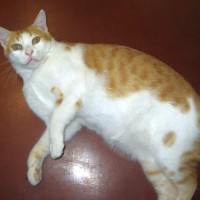 Peter
Peter was rescued from a trailer park, and has gradually learned to trust people. This handsome boy deserves a loving home of his own!
Rufus
Rufus is a medium haired Siamese mix. This quiet boy would love to go home with you!
Tuck
Tuck is even more handsome than this photo shows. Meet this darling tuxedo boy at 3432 E. Ft. Lowell on Saturday afternoons.
Bob
Bob is a large black cat who is super friendly! Bob tested positive for FIV but is otherwise healthy. He likes to stay close to people and would make a loyal pet.
Murphy
Murphy is a bit shy, but he's a sweet cat who would make a loyal pet.
Blizzard
Blizzard is a little shy, but would do well in a quiet home. You can visit this white beauty at our Ft. Lowell house.
Benjamin
Benjamin is slightly shy, but would probably blossom into a more affectionate cat if he found the special home he deserves!
Ginger
Just let her nose lead the way! Ginger lives for walks and jogs. She has a big place in her heart for people and always has plenty of affection and kisses to share. Ginger makes you feel special and important every time you walk through the door. Ginger needs to be an only pet as is aggressive toward cats and other dogs. Ginger loves kids though! She has much energy to burn and would love to have her very own person to play with.
Millie
Millie wants to be won over; you can see it in her eyes. This shy girl is apprehensive at first but once she's comfortable she won't leave your side. Millie has a lot of energy and loves to run in the yard. This Shepherd mix takes great pleasure in rolling over for a belly rub! Millie is a gentle soul, in search of another gentle soul. All she needs is a trusting friend to spend her days with. If you have room in your heart and home, please call to meet her!