Where Can I Adopt a Cat?
On PetFinder: You can see many of our adoptable cats. Take a Look
Pawsitively Cats will be at the Petsmart at 4740 E Grant Rd. ( Grant and Swan ) EVERY SATURDAY from 11:00 a.m. - 3:00 p.m.
We have adoptions at Woodland on Saturdays between 11 am and 3:30 pm.
What about Feline Leukemia Cats?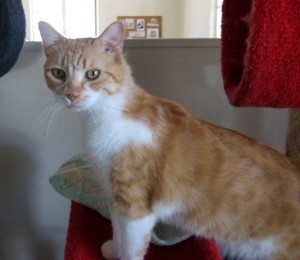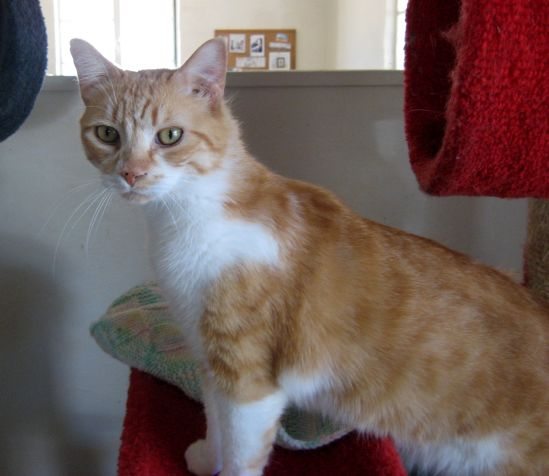 Meet Butters, aka Bubba. He's a real charmer who loves to play in water and chase cat toys. Butters lives with about 40 other cats that have tested positive for Feline Leukemia. While it is imperative to closely monitor the health and habits of cats that test positive for Feline Leukemia, their life spans are not always drastically shortened by the virus. We have several Feline Leukemia cats who have been with us for 5 - 10 years, and we have a report from a veterinarian who had a Leukemia cat that lived for 20 years. You can read more about the causes and characteristics of Feline Leukemia by clicking HERE. The PAWSitively CATS Feline Leukemia kitties live in a separate area at our Woodland location, and they are extremely friendly. If you would like to meet these cats, please call to make an appointment. This bunch of cats is sure to win your heart! Become a supporter of Pawsitively Cats - Help Us, Help More Cats!
Is there Paperwork?
We will ask you to fill out an adoption application. The application will be submitted for review, and you will be notified within 24 hours with the results of the review. Please see this link for more information on adopting a shelter cat: http://www.catster.com/lifestyle/shelter-adoption-fees
We want to make the best match for you and the cat, so that's why we ask questions and take time to review your application. Our goal is to make a forever match that will be beneficial for everyone.
We will verify addresses and rental information.
How Much Does it Cost to Adopt a Cat?
Our adoption fee for kittens under 1 year is $110. Adult adoption fee is $99. This fee helps us to recover some of the cost of preparing the cats and kittens for adoption. Each cat will be spayed or neutered, have current age appropriate vaccines and be tested for Feline Leukemia Virus and FIV and will be micro-chipped.
Your charitable donations will help us to be able to rescue more cats and kittens.