Board of Directors:
Tim Jansmann (President)
Cat Nickelsen: I am a mother of 3 a grandmother of 4.5.  Wife to the most wonderful man in the world.  Mommy to 5 Furkids.  I work for a computer software company and enjoy it.   I have a passion for felines both big and little.  I believe education is the key.  To everything.  My motto: if you are determined to learn, no one can stop you.  If you are determined not to learn, no one can teach you.
Janet Emel (Secretary):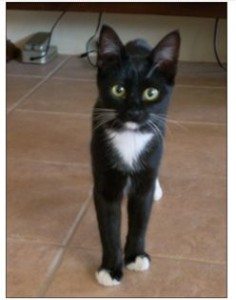 Janet has been a foster for PAWSitively Cats since June 2013 and has fallen in love many times over with her foster kits. She has worked for Pima County as a land use planner for 24 years and lived in Tucson for 35 years after coming here from Minneapolis. She has supported animal welfare efforts since forever. Three cats have agreed to share their home with her – Lilly (pictured), Iman, and Nellie – and have tentatively agreed to her fostering activities.
  Felicia Novotny (Treasurer):  Felicia s a graduate of The University of Arizona, with a Bachelors of Science in Special Education and Rehabilitation – Emphasis: Deaf Studies.  She plans to pursue her Masters Degree in teaching the Deaf and Hard-of-Hearing, starting this summer.  She has been with PAWSitively Cats as a Foster placement since 2011, and has helped several cats and kittens rescued from a local high-volume shelter find furrever homes. Three of her personal cats were rescues, found as newborns. Felicia has a passion for saving as many cats as possible, and a strong advocate for TNR. She volunteers at Petco on a regular basis, and is in the process of becoming an Adoption Counselor. She held the treasurer position for the last year for The U of A American Sign Language Club, and has fundraising experience, and a strong background in administration.
 Gary Dickenson: board member
Petra Gearhart (Immediate Past President):  Petra brings many years of experience in animal rescue, fundraising, and trap-neuter-return programs.  She has worked tirelessly to significantly reduce the feral cat population in the Tampa Bay, Florida area and is a great asset to PAWSitively Cats.
Advisory Board Members: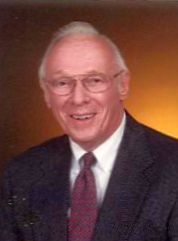 Bob Langwig:  Bob is the former director of a large foundation for the Presbyterian church.  He is retired and volunteered doing cat care at the Oro Valley MarketPlace PetCo.  Bob lives with his wife and two rescued cats.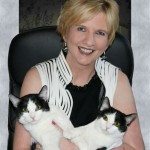 Bridget Monrad: Bridget is the President of Happy Tails Travel pet relocation specialists, and adopted her cat from Casa de los Gatos. Happy Tails Travel sponsors our special needs cat AJ and has generously donated printing costs and postage for promotional materials for PAWSitively Cats.
PAWSitively Cats Founder and Executive Director: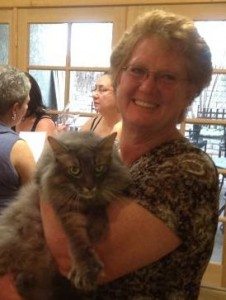 Sheryl Campbell: Sheryl has 20 years experience in non-profit small business management.  She has spent the last five years directly involved in cat rescue, beginning as a volunteer and then taking a position as business manager of a no-kill cat shelter.  She has seven years experience in Trap, Neuter, Return (TNR) of feral cats, working independently to trap, neuter and return a colony of 40+ cats.
Ms. Campbell has a deep concern for the welfare of all animals.  The plight of abandoned cats has ignited in her a passion to offer quality shelter to the cats, education on the value of TNR to the public, and low-cost spay/neuter service to reduce the number of homeless cats on the streets of Tucson.