Help Turn $8,000 into $16,000!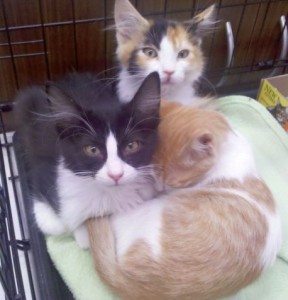 Thanks to an anonymous donor through the Community Foundation for Southern Arizona, PAWSitively CATS No-Kill Shelter is fortunate to receive an $8,000 grant and is launching a 2 month campaign Aug 15th – Oct 15th to raise matching funds.  This is a great opportunity for us and for our donors to make every dollar count twice. We encourage you to contribute toward this one to one match and help us reach our goal.
This matching grant will enable us to pay for:
• 2 months of spay/neuter surgeries and vaccinations for adoptable cats & kittens along with regular vet care for sanctuary cats
• Dental treatments for 20 or more of our neediest cats
• An 8 week supply of Friskies canned pate and Kirkland 25 lb bags of dry food for all cats in our care
• A 12 week supply of cat litter for our Adoption Center and Sanctuary locations
Donate now by sending a check to PO Box 32115, Tucson, AZ, 85751 with "Matching Grant" on the memo line.  (Donating by check avoids fees charged by PayPal and Razoo.)
Donate online at http://PAWSitivelyCATS.org/ and enter "Matching Grant" into the PayPal special instructions box.
For those who wish to donate online without using Paypal, there is also a Razoo donation site: http://www.razoo.com/story/Pawsitively-Cats
Thank you to our anonymous donor and the Community Foundation for Southern Arizona for giving us this unique opportunity.