Two Cats Turn a Corner
Pictured here are Angel (orange tabby) and Joey (grey tabby), two kitties who came to live at our shelter when their owner "Sarge" passed away.  These guys definitely missed Sarge, and for the most part stayed hidden away in the shelter. Recently though, Joey has become very affectionate with people and Angel is warming up to humans as well!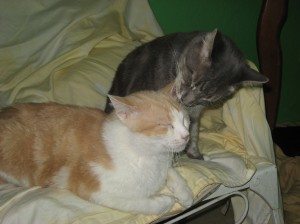 Seeing these cats display affection and happiness affirms our mission and reminds us that with enough time and patience, timid or frightened kitties can relax and become real sweethearts!
Help us help more cats like Angel and Joey: make a tax deductible donation or sponsor a shelter kitty today!