Blind Cat Returned to Owners in Ohio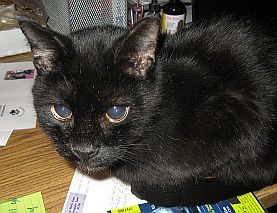 Nia, a Tucson woman who was visiting Columbus, Ohio came across a small black cat wandering through a dog park and headed toward a very busy road. Nia went after the cat so he wouldn't get hit by a car. Nia soon realized that the cat was blind! She tried unsuccessfully to locate the cat's family, and eventually brought him back to Tucson. She posted information on Facebook hoping that someone would claim him.
The family of the blind kitty had gone out of town and the cat escaped when the person who was watching their home accidentally left a door open. When the family returned they found that "Squeak" was missing and posted his information on Facebook. A third person who was surfing Facebook saw both posts and contacted each party to put them in touch with the other. In the meantime, Nia was unable to keep the blind kitty, so she asked around to determine what to do with him. One person recommended contacting PAWSitively Cats, a Tucson no-kill cat shelter, because the Director has blind cats of her own.
Sheryl Campbell, the Director of PAWSitively Cats, took the blind cat to the shelter and gave him the name "Miller". Sheryl took "Miller" to the vet because his teeth were in bad shape. 14 teeth were extracted, and "Miller" soon felt much better. While at PAWSitively Cats, he dearly loved to be held or to perch on the nearest human! Before long, Nia contacted Sheryl to tell her that she had located the Ohio family, and that the cat's name was "Squeak". The Ohio family had rescued Squeak from a dumpster and kids who were throwing rocks at him when he was a kitten. Squeak had been with them for 8 years and is blind due to retinal atrophy. They just had him at their vet for a check up and knew that he needed dental work, which they were saving money for.
After a few conversations with Squeak's family, Sheryl decided that she would fly him back to Columbus. Squeak's owner sent a donation to cover the cost of his dental work, and her employer will be sending a matching donation!
On February 24th, Squeak was reunited with his family, amidst tears of joy for having him back and tears of sorrow for saying goodbye to this sweet blind kitty who had taken a vacation in Tucson. The PAWSitively Cats staff and volunteers miss "Squeak Miller" but are happy that he is now back with his family.
Jill Wohlfeil, Sheryl Campbell, and Susan Miller contributed to this story.