PAWSitively Happy Endings
Happy Endings for cats include adoptions (especially adoptions of special needs cats) and events in the community that help stray or feral cats.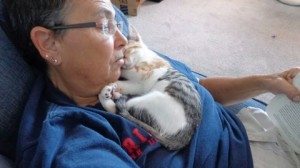 (Story written by PAWS CATS rescuer.) This kitten and her 6 siblings were owner surrenders to PACC in early April. They were extremely healthy, happy and well socialized, but too small to be altered at PACC, so they were put up for rescue. I picked them up on 4/13.
That afternoon, a young girl and her family were there looking at dogs and she spotted me with my cat carrier. She found her way over to me and wanted to talk about cats. She explained that her father is allergic, so she's not allowed to have them, but she loves them. With her parent's permission, I allowed her to shadow me as I got the paperwork in order and finalized the rescue. When it came time to put them in the carrier to come home, she asked if she could help. The PACC staff and I happily agreed to let her take each kitten and hold it for a second before placing it in the carrier. Her eyes were bright as stars as she helped us. As she held the last kitten, it climbed to her shoulder and didn't want to let go. She was delighted to feel loved by the kitten and didn't want to let go either. I asked her what her name was and she told me it was Mia. I smiled and told her that the kitten was now officially named Mia. The face of this little girl, whose eyes had already been twinkling, beamed with joy as she handed her over and I promised to find her a good home.
About the time Mia became ready for adoption, I was contacted by an old friend who was looking for a cuddle bug. I asked a few more clarifying questions to help make a good match and let her know I would contact her when I found any potential candidates. I knew this needed to be a special cat and one who was destined to be loved and spoiled forever.  Just a few days later, Mia was staying with Sheryl for the weekend and Sheryl reported that she couldn't get Mia out of her lap. She said Mia was super sweet, cuddly, loving, playful…all the right personality traits. I knew the two needed to meet. It was love at first sight for Steph and Mia, who is now named Daisy.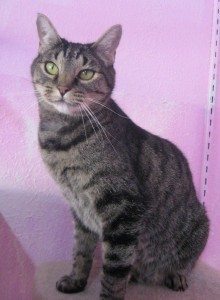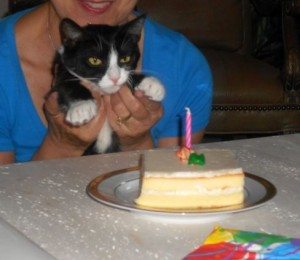 (Story written by PAWS CATS volunteers and staff.) It was a sad day about a year ago when our cat Tallie had to be put to sleep due to failing health.  Tallie had been abandoned in a carport and had neurological problems, but lived her last years happily in the shelter. The same day, a stray mother cat and kittens were found.  We named the mother cat "Talia" in honor of dear Tallie. One of Talia's kittens had severe birth defects and died after a few days.  The other kittens were given the names "Amanda" and "Amy" and each found a wonderful home. Amanda's adoptive family changed their new kitten's name to "Tallie" in honor of the mother "Talia" and they just recently learned that Talia had been named after another "Tallie."  Here is the lucky and playful girl Tallie celebrating her 1st birthday!
You can meet our wonderful adoptable cats on Saturday afternoons at 3432 E. Ft. Lowell, or other times by appointment.  Call us at 520-289-2747.
Click HERE to read the story of a blind cat who was recently reunited with his family in Columbus, Ohio.
Click HERE to read about our presentation at Lauffer Middle School.