Happy Holidays From Pawsitively Cats!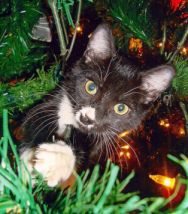 Please Consider a Monetary Tax-Deductible Donation Today!
Our Holiday Wish List
Exquisicat Wheat Cat Litter (PetSmart brand)
Dry Cat Food (Kirkland, from Costco)
Canned Cat Food (Friskies pate' style)
Cleaning Supplies: Bleach, Laundry Detergent, Blue or Yellow sponges, non-floral scented floor cleaner
Nature's Miracle or other enzyme based odor and stain remover
Forever Stamps
Basic (unused) expendable office supplies (copy paper, paper clips, staples)
Reliable Pick up truck, Van or SUV for transporting cats and supplies
Donations may be dropped off at 3255 & 3261 N. Flanwill Blvd or 3432 E. Ft. Lowell between 10am and 2pm Mon-Sat, or you may call 520-289-2747 to make an appointment. Small items may also be dropped off at the PetCo stores at 22nd St. & Harrison. You can also choose items from our Amazon Wish List. Thank You!!
Make Your Gift to Someone a Gift to Pawsitively Cats!
If you provide the information (name, address, etc) we can notify the person receiving the gift!